Warehousing and Storage Service
Security and Safety is also paramount in storing, loading and unloading your precious goods.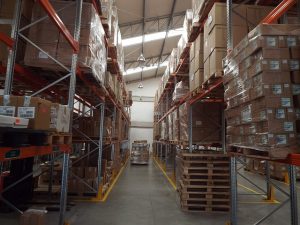 Protect your precious goods from theft, fire and damage.  
We have our own 15,000 SQ FT warehouse fully equipped with security alarms, fire alarms, sprinklers, cameras, loading docks and a driving dock.
We offer storage for our interstate and office relocation customers.

Unlike other companies
1) We don't store our customer's used household goods in a portable container in a rented out parking lot area in the middle of no where.  This is highly inconvenient for taking out the household goods ,difficult to count and this method is highly susceptible to container thieves, fire, floods, damage, etc.
2) We have our own office right next to the warehouse, so can easily react, monitor and record all the household goods in the warehouse.
3) We have people that thoroughly organizes, count and repackage all type of goods to be loaded or unloaded in the truck.
4) Flexible options, we can send your good by air, railroad, trailer trucks, etc. How ever you want, when ever you want.
5) Does not over charge you with expensive storage fees, labor fees, unloading and loading fees, etc.